Contact center
Contact centre is a solution of system for administration and management of information on phone calls and callers. The solution deals mainly with the registration of data on incoming and outgoing calls executed through a telephone exchange. The system offers its users required information on a simple, fast and well-organized basis. The solution is suitable for middle and large organization, e. g. state administration authorities and regional or municipal offices.
Possibilities and functions
Contact centre has following main functions:
Caller's profile.
Daily registration of phone calls.
Detail data on a phone call.
Calendar.
Control panel for work with a call.
Possibility to search and display related internal documents.
Search in Documentation Service (search for external documents).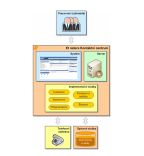 Advantages
The main advantages of the Contact Centre solution include:
Accessibility through an internet browser interface.
Option of personalization (individual user's setup).
Ergonomic and intuitive user interface.
Work is simpler, accelerated and well-arranged.
Modern, adjustable and extensible solution based on Java technology.
Effective administration (simple and fast central setup including update).
Protected access.
Components
The Contact Centre solution consists of following four components (software, services and hardware):
System (web application from users' viewpoint).
Implementation (installation, setting and adjustment to particular requirements).
User trainings.
Server.
Conditions
A necessary condition for the Contact Centre implementation is a telephone exchange - communication system using IP protocol including relevant application program interface JTAPI.