Allianz Launches its New Website Made by Etnetera
04. 11. 2013, Author: Ondřej Čihař
Etnetera a.s., a leading Czech creator of websites, successfully completed and launched a brand new website for its client Allianz at
www.allianz.cz
. In terms of design, the site represents the most modern Allianz website in the world, taking into account the latest trends in user-friendliness, clarity, and the newest findings in the area of search engine optimization (SEO). The new website offers users a clear map of contact points (branches, consultants, service points, tour points) using Google API. The latest version of our jNetPublish complex content management system (CMS) was used to add and administer content.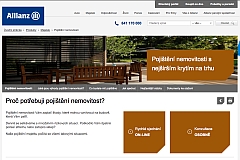 Over the last two years, Etnetera has worked intensively with Allianz on expanding the insurer's online presence so the online client portal met today's demands and expectations for modern and effective communication. In 2012, Etnetera and Allianz launched Allianzdirect.cz, a portal for online policy purchases, and the Mojeallianz.cz client portal for managing policies. A portal for sales representatives was added at the beginning of 2013 and a number of smaller projects were also completed during this period, expanding the insurer's online portfolio. The process was completed on Nov. 4, 2013, with the launch of a new over-arching website at www.allianz.cz, based on jNetPublish CMS from Etnetera as all the previous projects had been.
The newly-launched portal takes into account the latest trend in the creation of complex websites in terms of user-friendliness. It is also broadly connected with the insurer's internal systems in order to comfortably file claims, find information about them, or search for the closest branches or consultants.
"Together with the client, we understood the new website as the main project in our long-term cooperation. We took great care with the initial analysis phase and worked with a rather large number of graphic proposals. The final layout came as a result of understanding the client's desires combined with our recommendations," Etnetera project manager Lukáš Lejsek said.
"We strove to make our website easier to understand, clearer, and more intuitive, with a more modern look; where the client finds not only forms that they can understand, but also answers to the most frequent questions," said Allianz online marketing specialist Kateřina Jeníková.
Allianz is a pioneer in offering services over the internet in the Czech market. This includes not only filing claims or checking on policy payments, but also the very popular online monitoring of claim processing. Allianz is a leading global insurance company, represented in more than 70 countries around the world. Allianz places an emphasis on securing its clients' data and personal information, which is why all the website applications are not only easy to use, but also highly secured to prevent abuse.