Etnetera Re-Designs Fortuna's Websites and Adds New Functionality
19. 11. 2013, Author: Ondřej Čihař
Etnetera a.s., a leading Czech creator of websites, announced that it successfully completed the redesign of all national websites for its client, bookmaker Fortuna. The webpages in the Czech Republic
(www.ifortuna.cz)
, Poland
(www.efortuna.pl)
, and Slovakia
(www.ifortuna.sk)
were re-imagined as more compact, user-friendly, easier to use, and they offer users unique new functions. The current versions of the websites are only the beginning and the new designs will be applied across all sections.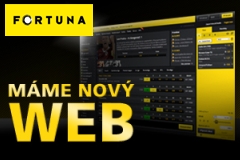 This new designs and functions are among the greatest changes that Fortuna's users have experienced in recent years. The new webpages changed not only their color palette, but have also updated the look and logo. They include a series of unique functions that users will not find anywhere else in the world. The newest function is the Superticket, with drag&drop; functionality, which makes setting up a ticket much easier for the user.
"We set two goals in redesigning the website. The first was provide users with a presentation that reflected current trends in personal computing, especially in terms of user interface and resolution. The second focused on re-building the most important part of the website: the betting ticket, which can now be put together much easier and faster, not only when compared to other Central European bookmakers, but also global brands. Thanks to Etnetera's approach, everything was launched on time on all markets where Fortuna operates," Fortuna chief bookmaker Ondřej Vích said.
What's new:
Graphics, colors, and the logo.
The pages support higher resolutions and the pre-match and live modes now support the largest amount of large monitors in Central Europe.
The new betting ticket supports drag&drop; functionality.
A wholly-unique Superticket mode that allows for the modification of the ticket across the full screen, not just in a narrow column as had been the case up to now.
Full-text searches in the betting database; enter the three first characters of a game name or league and the system takes care of the rest.
Quick views of active tickets directly in the ticket (the My Ticket tab).
The basic introduction to the new functions can be seen here.
Etnetera also significantly used its own open source TDI, which is an AJAX library that takes care of all AJAX calls, automatically processes replies, performs necessary activities on the webpage, and will not require any other Java script code for AJAX.