Etnetera Wins Again at the Internet Effectiveness Awards 2013
31. 03. 2014, Author: Ondřej Čihař
Etnetera a.s., a leading Czech creator of web-based solutions, succeeded at the eighth annual Internet Effectiveness Awards (IEA) 2013 recognizing the most effective projects on the Czech internet. Etnetera triumphed in the telecommunications and IT category with its "O2 Extra výhody" online loyalty program created in cooperation with Motion Media s.r.o. for Telefónica ČR a.s.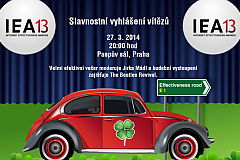 The Internet Effectiveness Awards is organized by the Association of Internet Solution Providers – Asociace.biz. An expert committee evaluates individual projects on the basis of effectiveness using total results versus cost as a measuring stick. A total of 89 projects entered this year, with 36 shortlisted. The IEA 2013 ceremony took place on March 27 in the Pasp Hall in Prague.
O2 Extra výhody (www.o2extravyhody.cz) is the most successful online loyalty program in the Czech Republic. It allows clients to access advantages and discounts from exclusive partners online, on their phones, through mobile apps, and over SMS. This concept dispenses with traditional plastic cards and catalogs; everything is online and in real-time. Users have several tools to help them find advantages on all platforms, such as location services or simple filtering categories. The complex solution includes an application for partners that allows them to validate codes remotely and a reporting tool used in decision-making processes and reporting commissions to partners.
The solution immediately recognizes the user on all platforms. The website has a personalization tool that helps users find the discounts most relevant to them through newsletters. The key technological and comparative advantage comes through its use of all online channels: SMS (key words), website, mobile website, and a mobile app.
"The goal of the solution was to strengthen customer loyalty and improve the brand's image through a massively popular program that allows customers to purchase goods and services. We were able to fulfill both goals," said Václav Krátký, Telefónica O2 senior marketing specialist.
Using the program is now easy and problem-free. There is no need to register and all users have access to the same discounts. Using the program was designed to take the fewest steps possible and attractive partners (i.e. Agip, Intersport, C&A;, Baumax, KFC) were signed-up. Thanks to these partners, the ease of use, and accessibility, the solution met its goals.
Data for 2013:
Number of codes generated: 2,200,000
App downloads: 350,000,
Total savings for users: CZK 245,000,000
"We worked to support the app's success by being flexible in development to maximize its potential as quickly and fully as possible. We try to work with the client as soon as we're briefed, which saves time during realization and the customer gets more satisfaction from administration of content and with more complicated elements in extensive projects," said Etnetera's Josef Sojka.