Etnetera Creates the O2 Videotéka Video on Demand Service for O2
09. 04. 2014, Author: Ondřej Čihař
Etnetera a.s., a leading Czech creator of web-based solutions, built the new video on demand portal
O2 Videotéka
for its client O2. Beginning in April, users can stream popular films, including recent releases, through their PCs, notebooks and, Samsung smart TVs. Smartphones, tablets, and other smart TV brands will soon follow. The service is offered not only to O2TV customers, but to anyone with an internet connection.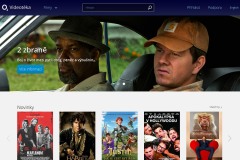 For a small fee paid by SMS or through regular billing, a user can watch any one of nearly 1,000 films, including the latest critical sensations and blockbusters, for a period of 48 hours. Older films cost CZK 30, while the newest films cost CZK 55. There is no limit to the number of films a user can watch and every month 30 new movies are added. The O2 Videotéka offers Czech films as well as movies from The Walt Disney Company Limited, Warner Bros Entertainment Inc., Sony Pictures Television International, and Universal Studios International B.V.
"Before, only O2TV customers could watch movies from our library. Thanks to the O2 Videotéka, we can bring films to everyone for a much lower price than a movie ticket," said O2TV marketing manager Branislav Valo.
Etnetera developers faced a series of challenges in the development of the portal, especially those stemming from the need to integrate various platforms, mostly internal Telefónica systems that facilitate payments and SSO log-ins, and the platform of nangu.tv, which provides content for O2TV and is the owner of the DRM streaming rights. Several minor integrations took place as well, such as connection to CMS jNetPublish from the O2.cz website. The resulting portal acts a unifying element among several platforms and services with a user-friendly interface that allows for comfortable browsing. The films are all accompanied by stills and trailers.
The framework Play was used in development with the Scala programming language, which is the basis of services such as Twitter or FourSquare. The database uses a MongoDB and Redis Celé solution that allows for easy browsing even during heavy loads. "For us, it certainly was a fascinating project, and a challenge that became a real experience for us," said Etnetera's Josef Sojka.
For more information, see www.o2tv.cz/videoteka/.