Etnetera Achieves Record Revenue
13. 05. 2014, Author: Ondřej Čihař
Etnetera Group (formally ETN Group), made up of Etnetera a.s. (a creator of websites), Etnetera Activate a.s. (on-line business consulting), and Etnetera Logicworks, s.r.o. (Apple tuning and corporate services) finished fiscal year 2013/14 (March 2013 – February 2014) with revenue totaling CZK 262 million, representing growth of more than 52% (CZK 172 million in 2012/2013). Operating profit came to CZK 23.4 million.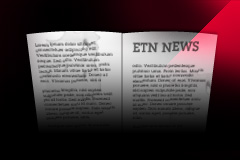 Etnetera no longer just creates websites. The mother company has spawned many subsidiaries focused on different areas, but holding Etnetera's traditional values: openness, fairness, and long-term partnerships. Besides the above-mentioned Etnetera Logicworks and Etnetera Activate, Etnetera Vision focuses on design, animation, videos, and custom e-learning applications.
Etnetera's shareholders never wanted one large, constantly expanding company. "The creation of multiple companies comes as a result of work in our business accelerator and our strong support of a highly-innovative environment. This also helps maintain our friendly, informal atmosphere and unique corporate culture. Our goal is thus to have various companies with different activities that will have a common business ethos, values, and innovative energy," said Etnetera Group Co-Founder Václav Bittner.
What Made Up the Revenue Numbers
Etnetera accounted for CZK129.5 million of revenue, with an operating profit of CZK 19.8 million and Etnetera Activate earned CZK 37 million with operating profit or CZK 700,000, while Etnetera Logicworks brought in CZK 95 million with operating profit of CZK 2.9 million. There are a couple of notes about these number. Etnetera Activate was a division of Etnetera a.s. throughout fiscal year 2013/2014 and became independent in March of this year. That means that Etnetera a.s. as a whole earned CZK 166 million with an operating profit of CZK 20.5 million, a decline of 15% from the previous year. Etnetera Logicworks, which specializes in services for corporate clients, saw extraordinary growth. However, part of its revenue came from one-off hardware sales that will probably not be repeated in the following period.
How Did Individual Companies Perform?
Etnetera
After a spectacularly successful 2012/13, Etnetera faced several challenges last year as it moved toward becoming a democratically-run company, which was completed this year. On the other hand, a series of new products and services that should bring fruit in the future came into being.
"In terms of profit, we planned for 15% less because we invested so much into our people and the development of new products and services over the course of last year and these should gradually debut during this year," said Etnetera a.s. Executive Director Martin Palička.
Etnetera Logicworks
This year saw the merger of Etnetera Electronics, s.r.o. and Logicworks, after which the newly formed company focused on professional service of Apple products for corporate clients and its brand-name NSPARKLE, which pushes the abilities of Apple products. This meant divestiture of the Rarus brand, which is no longer associated with the Etnetera Group. In the fall of 2013, the company also acquired AboutMac, s.r.o., which brought with it a significant expansion of corporate clients. Wholesale sales also grew, but these will not make up a major part of the company's activities in the future. Etnetera Logicworks will continue to provide the most professional and highest-quality service of Apple products for for corporate clients on the Czech market.
Etnetera Activate
Etnetera Activate continued to focus on perfecting data-based online marketing. The number of clients using services associated with Adobe Analytics (Omniture) products and improving the user experience grew. The burgeoning interest in these services led the shareholders to found a company wholly-focused on this sector.
"We can see that analyzing web data and creating a perfect user experience brings results. That's what we love to do," said Jiří Štěpán, the director of the new company. "We see massive potential for improvement and growth. We want to concentrate on expanding the capabilities of personalizing communication with the online customer and a high-quality mobile user experience. These are both uncharted territory in the Czech Republic," he added.