Etnetera Finishes in the Top 10 at the European Business Awards
28. 05. 2014
Etnetera a.s., a leading Czech creator of websites and extensive e-business solutions, finished in the top 10 at the 2013/2014 European Business Awards (
www.businessawardseurope.com
) in the Employer of the Year category, as well as being named the National Public Champion for the Czech Republic decided by the general public.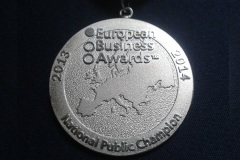 The ceremony announcing the winners from more than 100 companies from throughout Europe took place on May 27, 2014 in Athens, Greece at the Westin Astir Palace Resort.
The European Business Awards seeks out unique and successful European companies from a broad range of fields and awards quality, innovation, and sustainable development. Companies of any size and from any sector are eligible (see more at www.businessawardseurope.com). Etnetera was nominated as Employer of the Year for its innovation in corporate management as it transitioned from a traditionally-managed company to one that employs Freedom at Work principles, where the employees themselves take part in managing the company. Basically, this means tearing down restrictive regulations in return for freedom, trust, responsibility, and participation.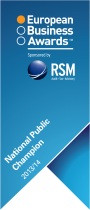 Martin Palička, Etnetera Executive Director said: "We're elated that we succeeded among such a select group of European companies and brands. Two years ago, we at Etnetera began the very complicated path to becoming a democratically run company, and we're still on that path today. Success at the European Business Awards means recognition of our efforts from the most dynamic companies in Europe."
More than 17,000 companies from 31 countries took part in the European Business Awards, with a total revenue of more than one trillion euros (which represents 8.23% of GDP of the entire EU, Turkey, Norway, and Macedonia). Complete results.
The final round involved a 35 minute presentation to a jury in Düsseldorf, Germany, that took place from February 17 to March 7, 2014 (depending on the category). The public could vote online for the European Public Champion from the 30 national public champions. The second phase of voting took place from January 14 to March 25, 2014.