CMS jNetPublish of ET NETERA a.s. company obtained the IT PRODUCT of the Year 2008 award
05. 02. 2008
Content Management System
jNetPublish
of Et netera a.s. company, a leading Czech provider of e-business solutions, obtained the IT PRODUCT of the Year 2008 award in the category "Content Management Systems". The competition is organized by the Czech edition of Computerworld Magazine.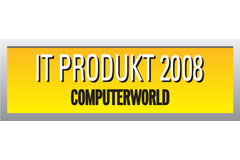 The aim of the competition "IT product of the year 2008" is to call attention to such products which differentiate by their qualities from their competitors. The difference may consist in operation, control, lower costs or general innovation.
Why jNetPublish?
Content Management System (CMS) jNetPublish in the Lilith 3.3.11. version obtained the IT product of the year 2008 award in particular thanks to the specific qualities differentiating it from its competitors:
Insite content editing (it is possible to create and edit the content directly on a webpage).
Management of the whole content life cycle (from the acquisition, management and approval to the publication).
Editing separated form publication (it enables to edit the form and the content independently).
Effective Management for more projects.
Extensibility and Adaptability.
Platform Independence.
CMS
jNetPublish
vwas developed by Et netera a.s. company and can serve not only as the solution for creation and adjustment of web presentations but also as the platform for development of different web applications (document management systems, intranets, extranets or contact centres, e-shops etc.). The web presentations currently operated on the platform are for example
Telefónica O2
,
Datart
,
Annonce
,
Knižní web
,
DVC (I-legalne.cz)
,
Ahold
and others.
Process and Evaluation
SCompanies could have submitted their products until the end of November 2007. Afterwards the editors of Computerworld magazine with the help of independent testers from foreign branches, users, implementers and customers chose the products bringing the biggest value for customers. Then these products were categorized into following groups: Safety Solutions, Information Systems, Communication Products, On-line and related services, Business Software, Content Management Systems, Press Solutions, Home (products for home use). The submitted version of the product was not allowed to be launched to the Czech market before August 15, 2007 and its sale is expected in 2008 too.
During this year another two rounds shall take place to determine other IT PRODUCT 2008 awardees. The final shall take place in autumn where the winner for each category will be announced.