The prestigious Stevie Award goes to the Czech Republic. Et netera won with its project "Offlineblog"
03. 07. 2008
ET NETERA, a leading Czech e-business solution supplier, won the prestigious International Business Awards in "Consumer Entertainment/Information"category with its unique project Offlineblog.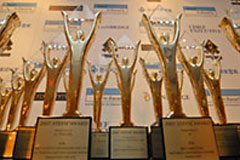 What is it "The Stevies" ?
International Business Awards or The Stevie Awards are the first worldwide awarding program for good work of companies with various focuses. The winner was chosen by a jury of experts from more than 1 700 nominations from more than 30 countries in several categories.
For more info see
www.stevieawards.com
.
What is it Offlineblog?
Offlineblog was create
d in June 2007 as a unique off-line blog performed on a table, size 2 x 2,4 m. It serves to comment on local or world events, express the opinions of employees and entertain passers-by. It is directed to Milady Horáková, a rush Prague street in Letná, where about 50.000 cars pass every day and where a tram line leads. During morning and afternoon rush hours there are regular traffic jams, which gives enough time to drivers and passengers to read the content safely. Offlineblog is also presented on
www.offlineblog.cz
to prevent the discrimination of on-line readers.
Major benefits:
access all day long without any need for network connection or power supply
easy administration: 2,6m ladder, cloth, water, chalk
reasonably priced upgrade (e. g. colour chalks)
the content is rarely destroyed by viruses (heavyrain.exe) thanks to the anti-virus program Bigtree 2.1 (a lime tree)
easy editing without the knowledge of HTML
it is not endangered by any server failure
picture files may be easily attached to the texts
in case the applications are extended for example to "chalk_on_string" the passers-by may participate in e. g. voting without login or registration.
It is just a pity that at present time the access of off-line readers is limited due to traffic closures around Letná.
Et netera company tries to draw attention and entertain its employees, business partners and public by non-traditional promotion on a long-term basis.
"Over saturation with advertisements and other promotion forms grows and these tools loose their efficiency. We make a different way which is more difficult, however it suits much more to the spirit and atmosphere of our company. And at the same time it works very well according to responses from surroundings, clients and employees,"
says Ondřej Čihař, Et netera Marketing Manager.
 A certain time ago Et netera captured people with the street performance "Ervín". It included a man who, for two months, used to stand on the pavements around Letná during morning rush hours and every day performed some human activity seeking allegorically sense of his life. Being a skier, than a surgeon or a chef he entertained mostly drivers stuck in traffic jams. Et netera also creates own comics series from IT environment
(
http://ljama.etnetera.cz
)
regularly published in the Connect magazine, organizes special events for clients etc.