Et netera ranks 6th in the Company of the Year 2009 Competition finals
30. 11. 2009
Et netera, a leading Czech e-business solutions provider, managed to wrestle its way among the top 14 Czech companies in a competition of more than 3,500 companies and entrepreneurs, thus becoming a finalist of the prestigious Vodafone "Company of the Year" 2009 Competition, the only software company doing so, and capturing 6th place. An expert panel made up from marketing specialists, economic journalists, representatives from state agencies responsible for business enterprise development, partner representatives, the Chamber of Commerce, Association of Small and Medium Companies and Entrepreneurs of the Czech Republic, and regional authorities, had the final decision of the competition's results .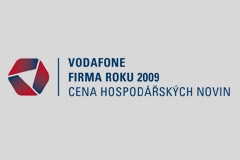 The renowned Vodafone "Company of the Year" 2009 Competition organised under the sponsorship of the Hospodářské Noviny daily newspaper, is a contest for all companies with a turnover of up to 1.5 bil. CZK, (a criteria used to categorize the Small and Medium Companies Group) and a two-year accounting history in the Czech Republic. As the competition is truly a national event, it does not limit itself to any particular areas of business for its participants. Many consider it the most important influential enterprise event in the Czech Republic.
According to the panel, Et netera reached the finals not only thanks to its economic success in the assessed period, but also thanks to its unique approach to business enterprise. At the same time, Et Netera was also the only software company that had advanced amongst the 3,636 participating companies and entrepreneurs, and managed to fight its way into the finals thanks to winning the regional Prague round. The company, well-known for its client-oriented approach and exploring of the Czech market for exceptional and break through projects, creates web-sites and provides consultation and analyses for its renowned clients.
"The key part of our business is not the ambition to be the best at all costs, but mainly an effort to determine the right path, to enjoy what we do and how we do it. Success will then follow. It's like a cycle – as primarily content people who see sense in their work create excellent results. And as work takes up a significant part of our lives, we want our employees and management to feel comfortable at work…as part of a "family", which not only will be reflected with positive economic results, but it will immensely affect the entire atmosphere and culture of the company," said Martin Černohorský, the Executive Director of Et netera a.s.
And it was precisely this "unique style", that earned Et netera praise from clients as well as competitors in the field. Apart from the economical indicators, which map out the economical strategy of the company, the expert panel further assessed the company's external performance and its contribution within the particular field of business and other criteria. In the case of Et netera, their highly respected methods have earned the company much success in its field, the way in which literally a small "living-room cyber company" has managed to become a leader in its field within the first 13 years of it's existence.
"Despite not being the over-all winner, we think winning the Prague regional round and advancing into the finals of this prestigious competition is already a success. Indeed, results in similar competitions have never been an indicator of success nor a main target for us. And personally, we have considered our "child" Et netera to be the "Company of the Year" ever since she's been born. Yet, we are very pleased that have lived to see our approach and methods that we use to manage and develop our company as being accepted by the professional community, and positively evaluated by representatives from other areas as well. However, we will be even happier if this helps us to inspire young people to start their own businesses and encourage entrepreneurs to do things their own way," added the founders of the company, Václav Bittner and Martin Holečko.
"In many aspects Et netera is a truly non-traditional company and I am extremely happy to see that it has managed to earn its way into the national finals," commented one of the Et netera's clients, Manager of Electronic Media, Telefónica O2 Czech Republic, a.s. Roman Pangel.
Another client, Communications Director of Ticketpro Kateřina Tornerová, added: "Excellent results! Et netera works as a well-oiled engine with a personal attitude towards clients and has a very well managed communication system."
This year's competition, sponsored by Hospodářské Noviny - Vodafone "Company of the Year" 2009 and Zlaté Stránky (Yellow Pages) – The Entrepreneur of 2009 was crowned on Thursday along with announcing the individual winners of the national finales in a live broadcast on channel CT24.
The finalists of the VODAFONE – "COMPANY OF THE YEAR" 2009 Competition held on 26th November in Slovansky dům are as follows:
1st place - Farmet, a.s. (Královéhradecký Region)
2nd place - Building SP, s.r.o. (Středočeský Region)
3rd place- Kovar, s.r.o. (Zlínský Region)
4th place - Lux-IDent, s.r.o. (Pardubický Region)
5th place - Top Moravia Q, s.r.o. (Jihomoravský Region)
6th place - Et netera, a.s. (Hlavní město Praha)
7th place - UNIMAN ENGLIŠ, s.r.o. (Vysočina Region)
8th place - CÍSAŘ, v.o.s. (Plzeňský Region)
9th place - ENVI-PUR, s.r.o. (Jihočeský Region)
10th place - CWS, s.r.o. (Ústecký Region)
11th place - SOLEN, s.r.o. (Olomoucký Region)
12.th place- PH KOVO - RECYCLING CHEB, s.r.o. (Karlovarský Region)
13th place - ELMOS LIBEREC, s.r.o. (Liberecký Region)
14th place - GAMIN, s.r.o. (Moravskoslezský Region)