Google Analytics
Etnetera believes in long-term cooperation and that is, why are we interested in the commercial success of all the applications we deliver. We provide a complete set of tools for visitor tracking, behavior analysis or ecommerce performance for all of our customers.
For the basic statistical analysis of a website traffic we recommend Google Analytics.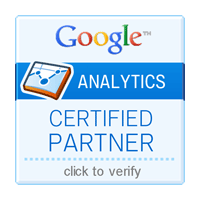 Google Analytics provide rich insights into your website traffic including the most interesting Key Performance Indicators like:
Visitor tracking

numbers of visits and absolute unique visitors and their pageviews
demographic analysis - geo targeting down to city level
browser capabilities, operating systems and screen resolutions
visitor loyalty and recency
and many more

Content and navigation analysis

which are the most visited pages
how do visitors navigate through them
unique "site overlay" visualization
site-search analysis

Taffic sources analysis

from where the visitors come from
which keywords they use in their search queries
how many visitors come from paid campaigns

Goals and Funnels

goal conversion tracking – registrations, order–process, newsletter subscribtions or visits on particular pages

Ecommerce

number of transactions and achieved revenue
relationships between ecommerce conversions and other metrics (e.g. what portion of the revenue was brought by a particular banner campaign)
All the data is accessible and observed in the long-time manner and the trends are easily spotted. You can compare metrics between different time periods or perform a multidimensional in-depth analysis.
Deployment to your website
Google Analytics are provided as a free tool for up to 5mio. pageviews per month. More successfull presentations need to use AdWords actively and we can help with this as well. The complete solution runs on Google's infrastructure, so there is no need to obtain any extra hardware.
All the expenses consist of impelmentation of tracking codes into your site's templates and courses for your employees.
Services we offer
Implementation of Google Analytics is quite easy for small websites, but larger presentations require deeper insight provided by our expert consultants. This consists e.g. ecommerce and cross-domain tracking, goal setting and site-search analysis.
In such case we offer:
deployment analysis – validation of possible range of implementation, definition of key performance indicators, determination of possible additional user segmentation
advanced tracking code implementation, thereafter deplyed to your website
Google Analytics courses for both implementation and data interpretation
effects and data observations and delivery of corresponding improvement proposals
Google Analytics accounts maintenance
Our consultants
References