Et netera is a founder member of Asociace.BIZ
Asociace.BIZ associates IT companies and internet agencies specialized in development of internet and intranet solutions. Et netera is there from the very beginning.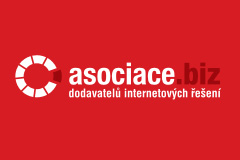 The aim of Asociace.BIZ is to give submitters – companies – inspiration and ideas about how to use interactive media in electronic business, marketing campaigns; how to improve the work of employees thanks to company intranets and systems based on modern internet technologies.
Asociace.Biz "shows what internet solutions can do" and not what is the latest software developed or implemented by any of member companies. Ideas and strategies are most important and that is what the Association of Internet Solutions Providers tries to develop. It brings inspiration and interesting case studies to clients. Member companies develop internet portals, e-commerce systems, in-house portals – intranets, extranets, websites, internet applications.
The members of Asociace.BIZ provide professional service also in the field of on-line marketing and networks of marketing tools and applications.
Asociace.BIZ requires from its members to provide complete service of internet solutions, application of the most progressive technologies and financial stability.
www.asociace.biz